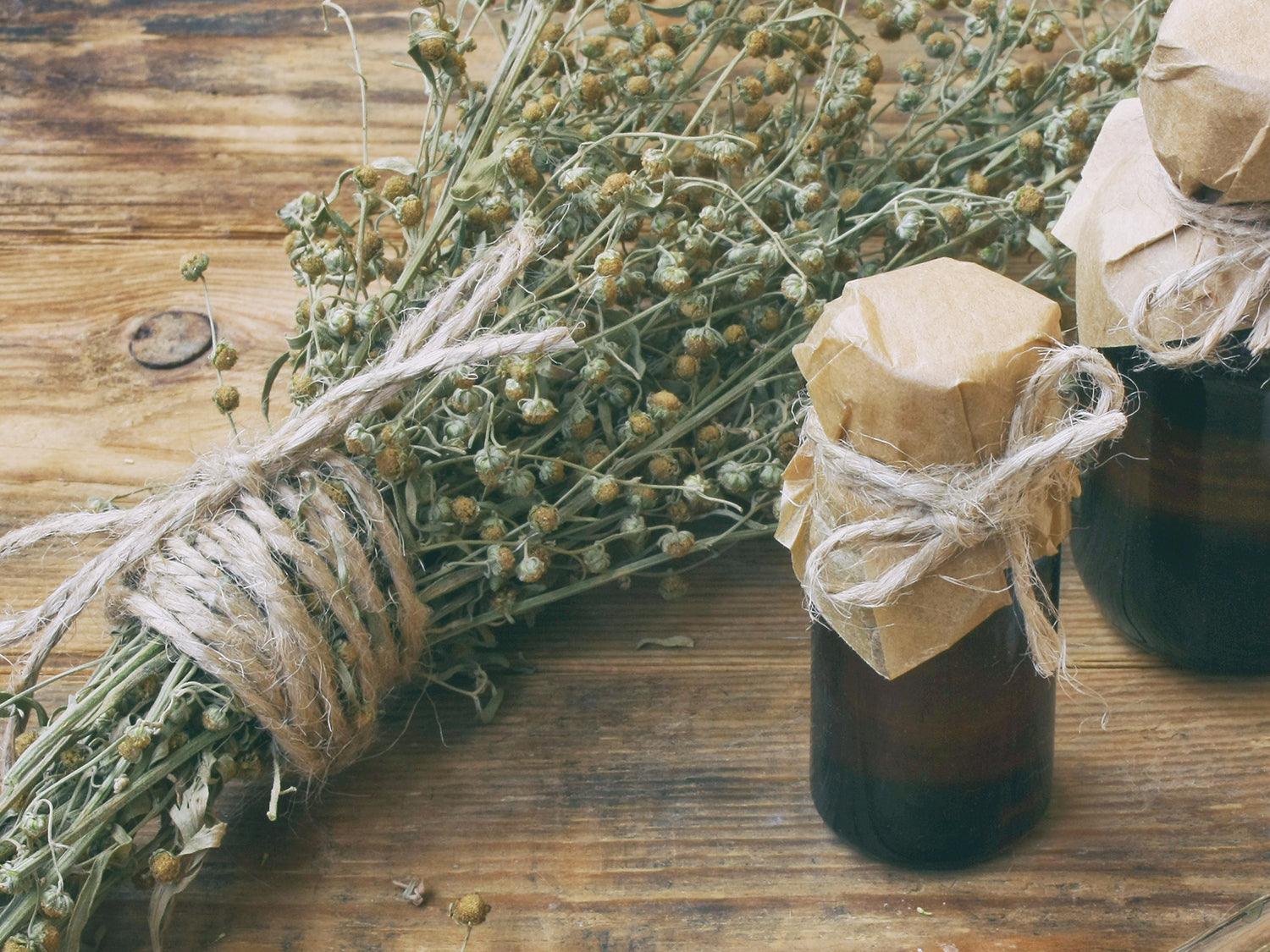 EVERYTHING WE DO IS WITH REVERENCE FOR OUR MAMA
Due to the Carbon capturing nature of our regenerative organic farming practices, Wilderland is already considered to be a Carbon-negative company. That said, we believe we can do better than the status-quo. While most of the world's companies have yet to commit to zeroing out their Carbon footprint, Wilderland is leading the charge and responding to the call for higher bars to be set.
That's why our packaging is thoughtfully designed to be as friendly to the planet as possible while protecting your purchase on its long journey from our farm to your home.



OUR KRAFT WRAPPING PAPER & HEMP TWINE
Let's start with the biodegradable Kraft paper and hemp twine used to wrap the recyclable glass bottles.
Kraft paper is made from wood pulp. Hemp twine is made from the stalks of Cannabis sativa plants. As such they are both naturally biodegradable. Like fallen leaves, when the paper and twine are put into the right conditions (such as compost), they naturally break down into their cellulose fibres in a matter of weeks.
Once you are ready to discard your wrapping paper, it can be curb-side recycled, or composted at home where it will be absorbed into your garden's soil. The twine can be composted as well.
OUR CARDS
Next, are a couple of the items we use to help convey our gratitude for your support. 
Our recycled thank you cards and promo cards are made with 100% post-consumer paper that is both FSC Certified and Rainforest Alliance Certified. These certifications mean the paper we use comes from responsibly forested trees.
OUR MAILER ENVELOPES AND SHIPPING BOXES
Finally, are the biodegradable packages used to transport your purchase.
When you buy a single 50mL or a 100mL tincture, it's going to arrive in our tamper-evident paper padded mailer. The mailers are made of upcycled newspaper matted into a layer of cushioning, then sandwiched between two layers of 100% recycled Kraft paper. Pretty cool!
The printing on our mailers is next level–done with black Algae ink. This is something we're really excited about because it is at the absolute cutting edge of eco-friendly sustainable printing. Even water and soy-based inks utilize pigments made with oil or petroleum. Algae Ink is a revolutionary ink developed by Living Ink Technologies. Instead of water or soy, it utilizes algae cells for pigments. The result is a safer and cleaner ink, which is more compatible with the recycling and composting process.
Once you're ready to discard your mailer, simply tear off the shipping label and curb-side recycle it, or compost it in your garden. 
When you buy multiple 50mL or 100mL tinctures, or when you buy 250mL or 500mL tinctures, it's going to arrive in a corrugated Kraft paper shipping box–nested in 100% recycled, shredded Kraft crinkle paper. The shredded Kraft paper and boxes are perfect to re-use on holiday and birthday gifts.
Once you're ready to discard your shredded Kraft paper and box, simply tear off the shipping label from the box and curb-side recycle it. If you plan to compost the box, please ensure you remove the tamper-evident reinforced packing tape first, as it is not compostable.
WHY IS THE PACKING TAPE NOT COMPOSTABLE?
Tape is a tough nut to crack. Our decision came down to how boxes are recycled in Canada and around the world. 
While some of our customers may choose to compost their box, we realize most will probably reuse or recycle it.
Therefore, we needed to look at the recycling process to determine our most sustainable option. The process of recycling corrugated boxes involves shredding it into small pieces and churning it up with water to make a "slurry." In this process, adhesives and polymers rise to the top, are skimmed off, then disposed of.
With this in mind, even if we used a packing tape that is technically recyclable or biodegradable; since the skimmed materials in packing tape are going to end up in a landfill anyway, we decided to focus less on how our tape was made and more on functionality of the tape as well as our customers' safety.
Our tamper-evident, water-activated tape is stronger than conventional pressure sensitive tape and non-reinforced tape. This means your package is much safer enroute. It uses a corn starch adhesive; however, the packing tape is reinforced with fiberglass string, which is unfortunately not compostable.
WE'RE NOT PERFECT, BUT WE'RE TRYING...
Starting a business is hard! Especially when you're bootstrapping and self-funding the venture on your own.
Unfortunately, our choices are limited because we don't have the luxury of buying in massive volumes to keep our costs low...yet! As our business grows, we promise you, our customer to continually reinvest and go beyond the status quo.
One day we envision a regenerative packaging movement; but until then, we will do our best in the responsible packaging movement. To that end, our immediate, short-term focus is to minimize the negative impact of our shipping and be as close to zero as possible.
Our one-year goal is to adopt shipping boxes made with 100% recycled content and 95% post-consumer waste, and to eliminate 95% of all plastics from our packaging. This includes bioplastic, compostable plastic, and recycled plastic found in items such as our bottle labels and shipping labels. Our droppers and bottle caps contain plastic and without alternative material options available in the market this is unlikely to change in the near future. We also aim to ensure every package is made from natural fibres, responsibly sourced, and made with recycled content, and/or certified sustainable trees.
What do you think about our packaging practices? Is there something you would like to see us adopt, or any new cutting-edge shipping tech you think we should check out? Please share it with us! We'd love to learn more!
LET'S VOTE WITH OUR DOLLARS
As consumers we have the power to change the world.
If we want sustainable products, we must vote consciously with our dollars. When we try our best to thoughtfully purchase sustainable products, the products themselves become less expensive to create and are more likely to be adopted by the masses. With your support, eventually we too can produce all Wilderland's shipping materials and packaging with recycled content–while continuing to create natural healthcare products that are better for both you AND the planet.